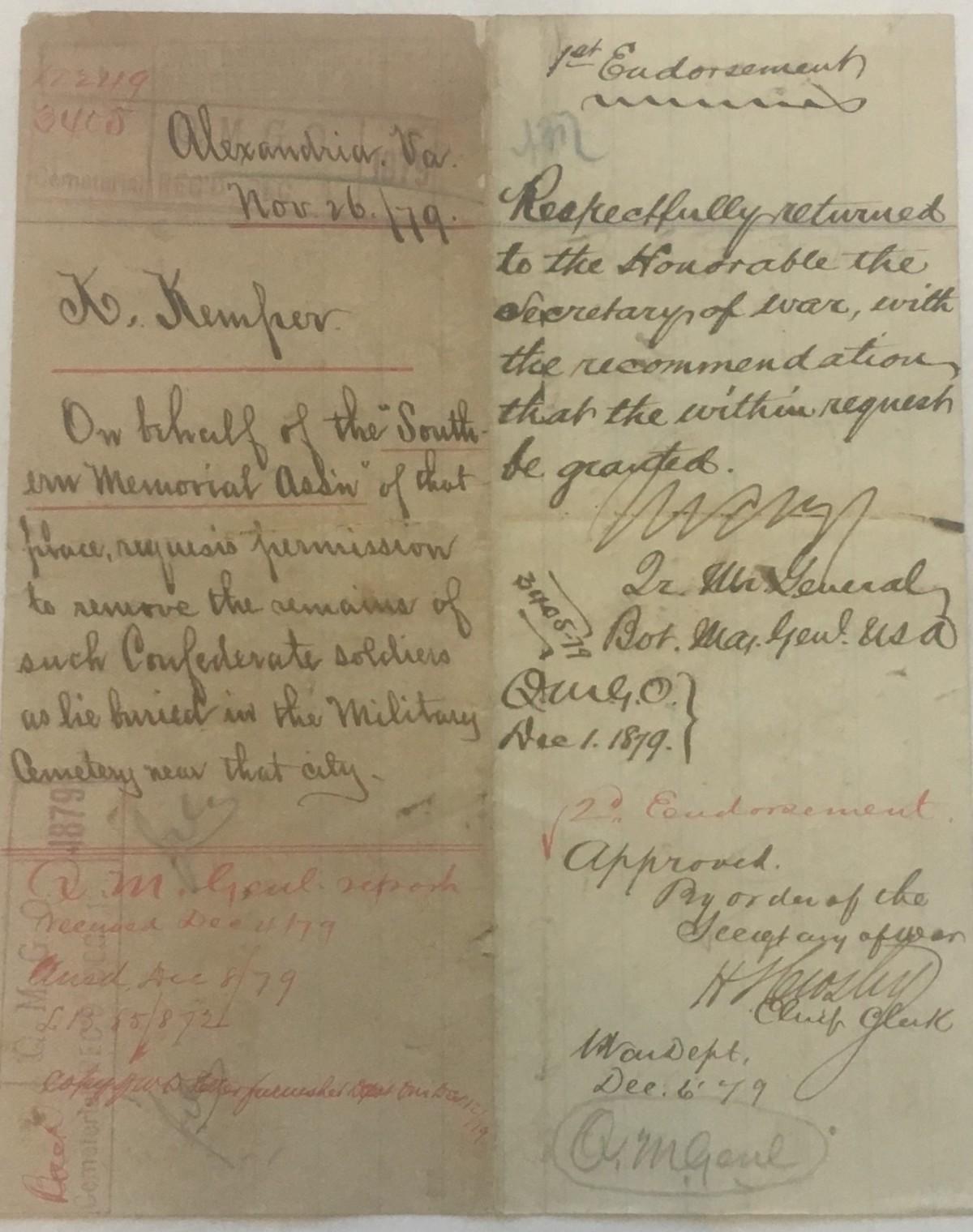 Source:
Maj. Gen. Montgomery Meigs to Secretary of War George W. McCrary, November 26, 1879, [File], [RG], National Archives and Records Administration, Washington, DC.
Read the Transcription
Alexandria, Va.
Nov. 26/79
K. Kemper
On behalf of the "Southern Memorial Assn" of that place, requests permission to remove the remains of such Confederate soldiers as lie buried in the Military Cemetery near that city.
1st Endorsement
Respectfully returned to the Honorable the Secretary of War, with the recommendation that the within request be granted
M.C. Meigs
Qr. Mr. General
B[...]. Maj. Gen'l, USA
Dec 1. 1879
2nd Endorsement
Approved
By order of the Secretary of War
[signature]
War Dept
Dec 6 '79
The Southern Memorial Association wanted to remove the Confederate dead from Alexandria's Soldiers' Cemetery and rebury them at Christ Church in Alexandria, which had been the church of both George Washington and Robert E. Lee. The Alexandria city council, Christ Church vestry, and United States Department of War provided little resistance to the Southern Memorial Association's plan. The federal government's charge was only to care for the federal war dead, so there was no reason for the federal government to deny such a request from a pro-Confederate memorial association. This episode demonstrates that stewardship of Union and Confederate war dead were still considered separate concerns and that national unity remained uncertain even more than a decade after the war.